About the Tain Pottery

Pottery selection in the showroom.
About the Pottery
The Tain Pottery, now firmly established as one of the largest Scottish ceramic manufacturers offers this range of products created by traditional craft technique and skill. The ware has been developed by a team of artisans including two potters who between them have more than 50 years experience creating craft ceramics. The products cover quite diverse methods and techniques, from hand built and thrown through jiggered and jollied to extruded and pressed. The principal clay body used is stoneware first formulated in 1981. It is fired to vitrification at 1280 degrees centigrade, to eliminate porosity and can be used in microwaves, ovens, freezers and dishwashers. The range of glazes used revolve around a tin glaze first concocted in 1978 and then modified to fit the white stoneware body, tried and tested!
The original designs, all hand painted: continue to evolve with the passing of time... subtle changes effected in the pursuit of excellence. New designs added to broaden the range of colour and hue. It is easy to see where the inspiration comes from, just look around, such an abundance, we are spoilt for choice. Indeed we are fortunate to live in an area so rich in natural beauty, each season offering a fresh collage of stimuli. In fact there is a genuine surplus of ideas within the core of decoration design, so much we have only scratched the surface with our current efforts; this must bode well for the future. As is often stated, "watch this space"!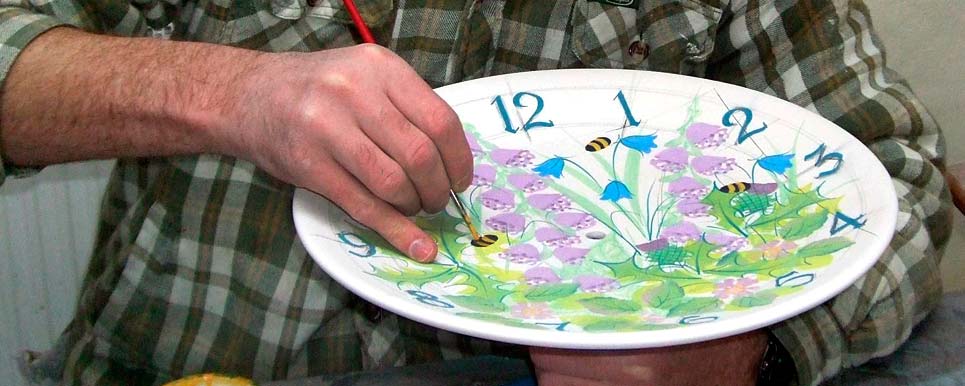 Tain Pottery Clock being hand painted
Tain Pottery 20th Anniversary

We hope you will perceive that the same enthusiasm towards our products has been directed at the general development of the pottery. In 1996 when Tain Pottery purchased the derelict steading at Aldie situated on a run down farmyard, surrounded by other properties in a state of serious disrepair, it seemed we had a mountain to climb. With very little collateral but a lot of energy and effort we now feel as though we are over half way up that peak and we would like to take this opportunity to thank everyone who has supported us. Thank you!