SHOWROOM & POTTERY
The Tain Pottery
Aldie, Tain, Ross-shire
IV19 1LZ.
Tel: 01862 894486.
OPENING HOURS
Monday : 9.00am - 5.00pm
Tuesday : 9.00am - 5.00pm
Wednesday : 9.00am - 5.00pm
Thursday : 9.00am - 5.00pm
Friday : 9.00am - 5.00pm
Saturday : 9.30am - 5.00pm
Sunday : CLOSED
TAIN POTTERY - A REFLECTION OF NATURE
The Tain Pottery, now firmly established as one of the largest Scottish ceramic manufacturers offers this range of products created by traditional craft technique and skill.
The ware has been developed by a team of artisans including two expert potters who between them have more than 50 years experience creating craft ceramics.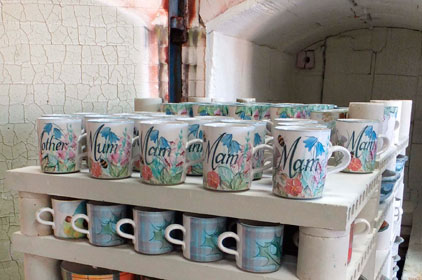 Pottery coming out of the kiln
"Let us bring your ideas to life!"
Inspire Me!
Sit back and watch design ideas from one of Scotland's top design houses ...